Since 2020 the brand Sesitec is part of Wakeparx Technologies AG. With the acquisition of the Sesitec full size cable system (FSC system), we laid the foundation for expanding our portfolio and building another Wakeparx quality product. This product is mainly aimed at passionate customers who want to start a Wakepark business but have limited capital available. 
The desire to develop a price-optimized full size cable system grew out of the fact that we want to give everyone who is seriously interested in building a wakeboard facility the opportunity to do so – and thus to create new locations according to our motto "we love to ride". At the same time, it was important for us to offer a product that meets Wakeparx's high quality standards. 
Sesitec renewed: The new Sesitec FSC system from Wakeparx
Sesitec is a brand that made wakeboarding known and visible in the 2010s. Today, it is still held in high by many wakeboarders because of its contribution to the sport. Approximately 500 cable systems of the type System 2.0 and more than 90 full size cable parks have been built by the company worldwide. When we acquired the Sesitec FSC, we encountered many good ideas and approaches, but the system technology was outdated. It was clear to us that the system needed an overhaul. 
There was a need for optimization with regard to the single rope drive, the motor mast mechanics and the electrics, among other things. The most obvious thing to do was to replace Sesitec components with Wakeparx components. No sooner said than done. We reworked the single rope drive and the drive technology and replaced the frame and the basic construction of the cable system with Wakeparx components. The uncoupling mechanism is now the same as in the Wakeparx system, i.e. catch fork, magazine and carrier are the same as in our Wakeparx premium system. The new control system also comes from Wakeparx.
We have modernized the Sesitec full size system from the ground and equipped it with proven and high-quality Wakeparx technology, so it is very close to our premium product. The revision was important to fix technical issues that the old Sesitec cable system had and to offer a product that promises a unique wakeboarding experience.
Motor Tower of Sesitec FSC by Wakeparx
Sesitec vs. Wakeparx – standard and premium product in comparison
Our Wakeparx premium FSC system is the most technically innovative on the market, but also more expensive. The higher price compared to our Sesitec product results, among other things, from the fact that masts, booms and other components are built from solid, thick and heavy materials (heavy-duty steel) that simply cost more. The Wakeparx FSC system has a more sophisticated and refined design overall, which can be seen in many details.
For example, the elevator drive is located at the top of the mast rather than at the operator's station, so the employee operating the system below is not exposed to any operating noise from the elevator motor. In addition, the Wakeparx FSC system requires little maintenance due to larger deflection pulleys and automatic lubrication. 
In contrast to our Sesitec product our premium version includes all the components and equipment needed for operation and maintenance, from a fully welded HDPE plastic launch ramp to an assembly and maintenance raft.
This makes the system extremely straightforward as well as user- and maintenance-friendly, which is why it appeals especially to operators who want to concentrate fully on their cable park business and not deal with side shows. Lower maintenance intervals and downtimes, as well as less wear and tear on the replacement parts therefore distinguish the Wakeparx system as a premium product.  (Here you can find a comparison of both systems.)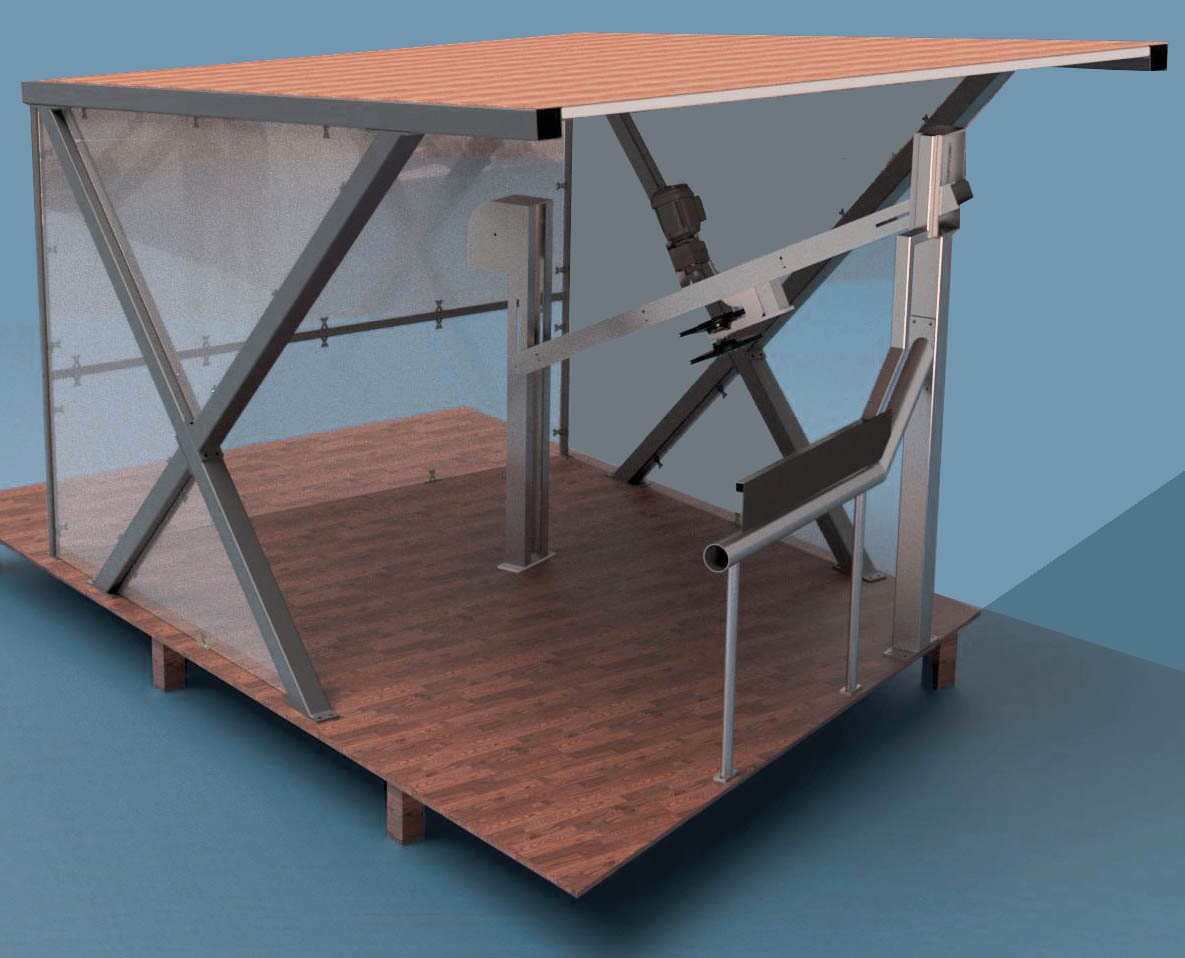 Operator Stand and Booth of Sesitec FSC by Wakeparx
Perfect for starting a cable park business
With our Sesitec FSC system, we have developed a solid and reliable product that uses proven system technology. Although the system does not offer the same range of comfort features as our premium version and there are limitations in terms of maximum water depth, system size and guest capacities, it is nevertheless an innovative and high-quality product.
Since the Sesitec FSC system is not offered as a complete package, customers have more options to decide on their own and on a budget, and can keep open the possibility of upgrading.
If you would like to learn even more about our Sesitec product or are not quite sure which of our systems is the best for your project, please do not hesitate to contact us. We will provide you with comprehensive advice and work with you to find a solution that suits you perfectly.
In 2023 we are working on exciting projects that inspire, challenge, motivate us and show us how much we love what we do. We provide an insight into current projects.
Inquiries & Sales
Office hours: 10am-5pm (CEST)
Phone: +49 89 244 134 05
Mobile: +49 172 6390 639
You plan on building a wakepark? Anne is the expert you want to talk to. Having a strong background in architecture and urban planning, she can quickly walk you through the requirements, the project timeline and any budget question that you might have. Anne handles all Full Size Cable system installations and we are not sure why you are still reading and haven't picked up the phone yet.
PLACEHOLDER
Onboarding & Planning
Project Management
Cable System Inquiries
Anne Eaton
Director of Sales and Project Management